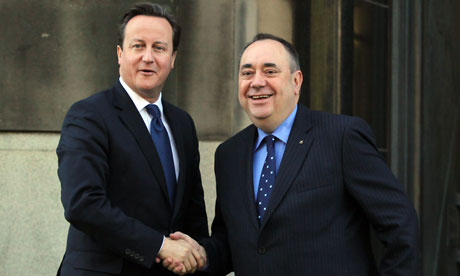 This story came up in the Guardian earlier this week, but has largely been lost in amongst all the run up to the publishing of the Leveson Report, however if this happens it will have some pretty big consequences for the whole of the UK.
Essentially the story suggests that the Tory government is making a deal with the SNP to make the independence vote a choice between full independence and the so called devo-max option. As part of the devo-max legislation Scottish MP's will be removed from Westminster, however they'll also use the opportunity to resurrect the boundary reorganisation plan that they failed to get through earlier this year. There are no Tory MP's in Scotland, and the boundary changes favour the Tory party too…
For all of the miscalculations and cock-ups of the past two-and-a-half years, the Tory party, and David Cameron in particular, are as strategically focused as ever on winning power and holding on to it.

Few will be surprised to learn, then, that Cameron is still determined to force through parliamentary boundary changes next year that will reduce both the number of seats in parliament and in particular the number of Labour MPs, (by about 30) – and all in the face of opposition from Nick Clegg. And despite Clegg's protestation, the Tories will probably be able to buy off some Liberal Democrat MPs threatened with extinction with a place in the Lords or on a quango. That he appears to be promising more devolved powers to Northern Ireland and Wales in order to win over the unionists and Plaid Cymru is quite logical in the circumstances.