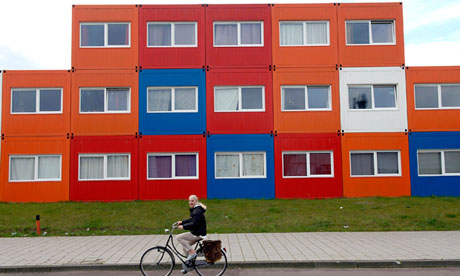 This story has been picked up by a couple of papers – essentially Amsterdam is taking their problem social housing tenants and
rather than bouncing them between regular housing blocks is putting them in all together in converted shipping containers.
Reaction to this seems to vary often depending on whether the person reading the story has had their life blighted by neighbours from hell. It certainly is a controversial move…
Amsterdam still looks liberal to tourists, who were recently assured by the Labour mayor that the city's marijuana-selling coffee shops would stay open despite a new national law tackling drug tourism. But the Dutch capital may lose its reputation for tolerance over plans to dispatch nuisance neighbours to "scum villages" made from shipping containers.

The mayor, Eberhard van der Laan, insists his controversial new £810,000 policy to tackle antisocial behaviour is to protect victims of abuse and homophobia from harassment.

The camps where antisocial tenants will be rehoused for three to six months have been called "scum villages" because the policy echoes proposals from Geert Wilders, the far-right populist, who last year demanded that "repeat offenders" be "sent to a village for scum".