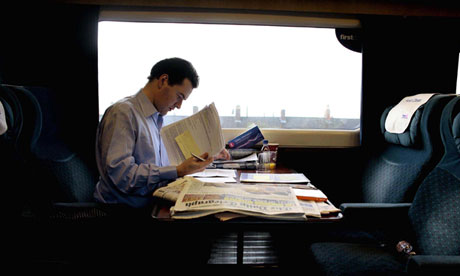 Today was the Autumn Statement, supposed to be just an update but once again a mini-budget this was Osborne and the coalition attempting to convince the country that he knows what he's doing, despite the fact that he's continuing with austerity, a policy that isn't working now, in the same way as it has never worked before.
Sadly I fear we're stuck with this policy which if we go the same way as previous austerity programmes will see us spiralling into further recession. Considering that the other news of the day was South West Trains inability to run a railway service after 2mm of snow the Guardian combined the two stories quite nicely…
Deficit reduction that was first going to take five years was later revised to a seven-year austerity programme. That became eight on Wednesday when George Osborne admitted that a flatlining economy meant his fiscal timetable was now as reliable as Thameslink's on a bad day. The chancellor insisted that Britain was on the right track. What he didn't tell us was that it's a slow moving train, with expensive tickets and uncomfortable conditions for those travelling third class.